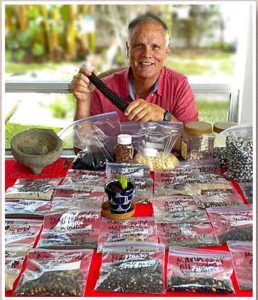 Dean Tinney says, "It's in the bag"— after dozens of smoky experiments at his home in Ensenada, with five types of special purple corn kernels from rare and distant farms in Mexico.
Plans are underway to grow, produce and sell healthy, caffeine-free, cancer-fighting, antioxidant loaded, purple corn coffee to help fund Christian schools and orphanages in Latin America and the Philippines, planted and being nurtured by Sparrows Gate Mission, a non-profit founded by Tinney.
Every granito de maiz morado (purple corn kernel) is pan-roasted by hand on a special clay comal and then every toasted kernel is ground by hand. Tinney thinks purple corn coffee tastes better than virtually all of the caffeine coffee he has cupped at specialty shops owned by famed coffee wonks.
"Starting from scratch (pun intended) to find the right toasting time, temperature, grain texture, color, aroma and robust taste was the challenge," according to Tinney. His still painful finger burns are a reminder of flaming failures. Every one of the more than two dozen Ziplock bags on the table, and many more dumped in the trash, are failed experiments on the way to research and development discoveries that led to delicious purple corn coffee.
The next step is to find a less labor-intensive way to toast and grind this ancient Maya treasure and sell Uncommon Coffee With a Cause to help fund the rescue of more kids from a wasted mind and an empty heart —in Jesus' name!