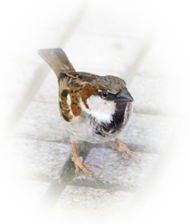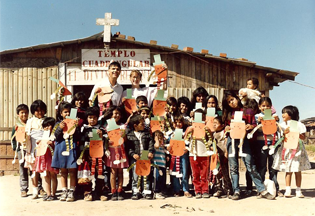 Dean and precious children pause for a photo at a meeting to share Bible stories and do arts and crafts at a Tijuana hovel church in November 1986.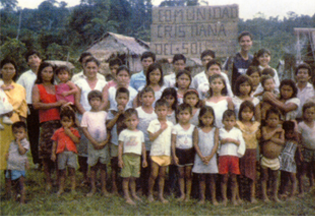 The Yaguas, living deep in the Amazon Jungle, worshipped the sun until Dean and team told them the story of Jesus in 1989. In time the entire tribe was converted and many other Yagua tribes near El Sol, Peru came to know, love and serve Jesus.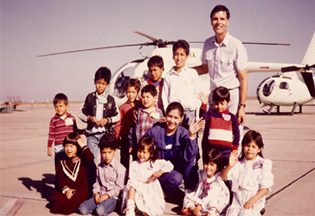 The first abandoned children to find a loving home and Jesus at Sparrows Gate ranch in rural Tijuana join Dean and Alba for a fun trip to an airport at the Tijuana border on the way to the San Diego Zoo in 1988.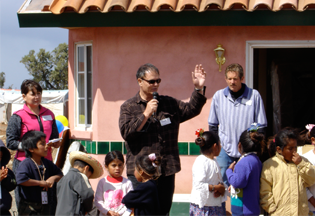 Dean Tinney offers a prayer of dedication for the Timothy House , a home for single destitute moms in Little Oaxaca. Also pictured is Tim Springer, who provided funds and oversaw all construction in 2006.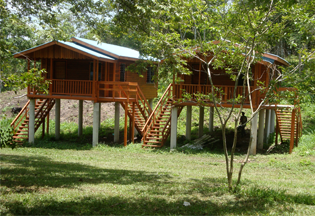 Sparrows Gate Mission cabins in Santa Elena, Belize were built in 2010 and will host short-term teams who come to share in the ministry.
In his teens, Dean Tinney felt God's leading to share the Gospel with the poor, but he left the Church and fellowship with Christ for a business career. For the next 35 years, he was a driven corporate executive, entrepreneur and part-time professor of marketing at Cal State University, Fullerton.
Finally, a shattering mid-life crisis caused him to give up lesser ambitions in obedience to God's original plan for his life. Like the prodigal son, he repented and returned to find the Father ready with love and forgiveness.
Dean believed that because the Bible says God takes care of the sparrow (and Dean never saw a sparrow begging for bread) that God would take care of him and the children he planned to help without ever asking for money. To remind himself of God's unfailing provision and because energetic, cheerful sparrows remind him of children, he decided to call the mission Sparrows Gate. The word Gate (in Sparrows Gate) is a reminder to introduce children to Jesus so they can enter the gates of heaven.
Sparrows Gate Mission began on April 13, 1986 when Dean moved to Tijuana, Mexico to present video Muppet shows of Bible stories to children living in cardboard shacks. Since he did not speak Spanish at the time, the Spanish video programs (like a Christian version of Sesame Street) enabled him to communicate the Gospel with hundreds of kids in regularly scheduled weekly meetings in various Tijuana hovels.
In the beginning, the children's faith mission was supported entirely by earnings from a part-time job Dean secured at a Mexican hospital. The day after he moved to Tijuana, he met Alba Gloria, the young woman who would become his wife.
Little-by-little, the mission grew to include a ranch for otherwise homeless children and other efforts to rescue desperate kids in Bogota, Colombia, Rio, Brazil and Asia.
In July 1987, Dean, with no funds, began to build a ranch for otherwise homeless children on land that was loaned to him by a Mexican Christian in a rural area just outside Tijuana. In no time the new home was built from scratch and was full of abused and abandoned children who came to know, love and serve Jesus!
In February 1989, Dean established a mission with the very remote, primitive and dangerous Yagua Indians in the Amazon. The tribe was intent on killing him and his small team when they set foot in their village but in time the entire tribe accepted Christ and mission friends from Colombia nurtured the mission in his absence. The amazing account is told in the book titled, "Finding God's Playground."
In July 1992 an 85-acre Tecate ranch for otherwise homeless children became a reality. The kids moved into a single double wide trailer until dorms could be built.
In August 1997 efforts to help poor Oaxacans in migrant Ensenada camps began and this led to building a Christian Elementary School and home for single, destitute moms and their kids in Ensenada.
Dean lived in Southeast Asia as a youth for five years which made an indelible impression on his life. Years later, as an adult, he returned to this region of the globe that he loves and has ministered in Hong Kong, Singapore, Malaysia, Myanmar, Laos, Korea, Thailand, Vietnam, Japan, China and Indonesia. But he found a second spiritual home in the Philippines in March 1999, where he began to rescue homeless street kids in Manila, Cebu and Davao. Today, Sparrows Gate partners with Shepherd's House, for homeless street boys in Agdao, Davao.
Though Dean is pushing 80, he says, "After more than 35 years of rescuing poor children, I believe it's just the beginning."
He is the author of several books including Latin American Culture, One Hundred Insights, Tame Fear—Enjoy Life, Build a Better You , Coaching Tomorrows Leaders, Coaching Tomorrows Entrepreneurs and Finding God's Playground.
Sparrows Gate Mission Milestones
1986 Lugar Secreto Spanish Video Children Outreach—Tijuana, Mexico
1986 Sparrows Gate Mission for children started—Tijuana, Mexico
1987 Sparrows Gate Office opens—Tijuana, Mexico
1987-1994 Home for Children established—Tijuana, Mexico
1988 Sparrows Gate Mission opens first orphanage—Tijuana, Mexico
1988 First trip to Belize, Central America to hwelp poor children
1988-1989 Mission for Yagua Indians established—Amazon River, Peru
1990 Sparrows Gate Mission opens first of three free medical clinics—Tijuana, Mexico
1990 Rio de Janeiro Outreach—Brazil
1990 Presented Missions Training Program—San Diego, CA, U.S.A.
1992 Sparrows Gate Office opens, Valle Las Palmas—Tecate, Mexico
1992 Another ranch for homeless children is acquired—Tijuana, Mexico
1994 Home for Children opens, Valle Las Palmas—Tecate, Mexico
1997 Belize Outreach
1998 Oaxacan Indian Mission begins—Ensenada, Mexico
1998 Visitor Center opens—Ensenada, Mexico
1998 Belize and Guyana, South America Outreach
1999 Philippines Outreach to rescue street kids in Manila, Cebu and Davao
2000 Child Care Center opens in Valle Las Palmas, Tecate, Mexico
2000 Sparrows Gate Mission Office opens in Ensenada, Mexico
2001 Oaxacan Children's School opens in Maneadero, Ensenada, Mexico
2001 Philippines Outreach to rescue street children
2003 Castle Christian School for Oaxacan Children opens—Ensenada, Mexico
2003  Philippines Child Care Center Opens—Davao, Philippines
2003  Single Destitute Moms property purchased in Little Oaxaca—Ensenada, Mexico
2005-2007 Missionary training presented—Sparrows Gate Mission, La Pine, Oregon
2006  Timothy House for Destitute Single Moms opens, Little Oaxaca—Ensenada, Mexico
2007  Launched Hillside Christian Fellowship Church—Belize, Central America
2007  Sparrows Gate office opens—Ensenada, Mexico
2009  Red Creek Sparrows Gate mission base property purchased—Santa Elena, Belize
2009  Purchase of property adjacent to Visitors Center—Ensenada, Mexico
2010  Red Creek Sparrows Gate Mission cabins installed—Santa Elena, Belize
2010  Shepherd's House for homeless street boys opens—Davao, Philippines
2010  Bullet Tree House, for mission volunteers opens—Belize, Central America
2011  Kids' Corner children's center opens—San Ignacio, Belize, Central America
2012 Ensenada Visitor Center hosts visiting mission teams
2013 Construction of mission orphanage in Philippines begins
2014 Sparrows Gate finds allies in Chihuahua, Mexico and Belize, Central America
2015 Chocolate making workshops in Ensenada help fund Sparrows Gate Mission
2016 Construction begins on mission office and apartment in Ensenada
2016 Dean Tinney leads mission team to Davao City, Philippines, to help at orphanage
2017 San Diego State University donates computers to sparrows Gate school
2018 Huge number of students graduate from the Ensenada Castle School
2018 Mission trip to the Philippines to share Jesus and rescue homeless kids
2019 Castle School student wins top speech award for Ensenada, Mexico
2019 Sparrows Gate Mission adopts Tarahumara children in Creel, Chihuahua, Mexico
2020 Famous Mexican wrestlers host exhibition at the Castle School Ensenada
2020 The Governor of Baja speaks at the Castle School and orders school road paved
2021 Dean Tinney forms farmer co-op to grow fish for poor kids in Baja, Mexico
2021 Urgent prayer for additional mission volunteers to grow kids in Christ